The below post was taken directly from the blog Eating Bird Food:
*                        *                             *                              *                               *                               *
I'm always looking for protein packed breakfasts. Currently I'm hooked on protein pancakes and protein overnight oats, but this morning I decided to bring an old favorite back – pumpkin pie Greek yogurt.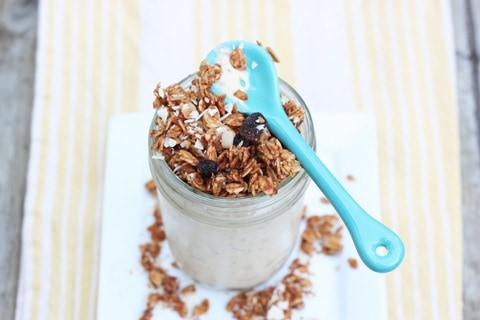 Pumpkin is my favorite fall flavor and during this time of the year I like to put it in everything – including yogurt. I've made this combo several times in the past but never really posted it as a recipe. Mainly because it's so darn simple. However, sometimes there's a time and place for simple recipes so I'm going to share this one today.
Pumpkin Pie Greek Yogurt
This recipe works great for breakfast or as a snack and you can use whatever type of yogurt you'd like. You can even make the recipe vegan by using coconut milk or soy yogurt. Neutral flavors like plain and vanilla will work best and if you're trying to amp up your protein Greek yogurt will give you the most per serving. I used Chobani 0% plain Greek yogurt and it turned out great. I added a little liquid stevia to sweeten the mixture up and some chia seeds for those omega-3s, but they're both optional ingredients for the recipe.
Ingredients
6 oz plain Greek yogurt
3 Tablespoons canned pumpkin
1/4-1/2 teaspoon cinnamon
pinch of pumpkin pie spice
4-5 drops of liquid stevia or sweetener of choice (optional)
1/2 Tablespoon chia seeds (optional)
Preparation
Put all ingredients in a bowl and stir until everything is mixed together well. Top with toppings of your choice and enjoy!
Since pumpkin pie isn't quite complete without a little topping, I added some Love Grown Foods raisin almond crunch granola and a few banana slices to the mix.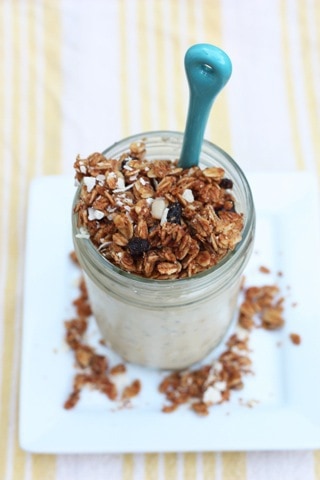 Each bite was filled with thick, creamy yogurt and a bit of crunch. I especially enjoyed the bites that had a raisin in them.
Most importantly, this meal kept me full all morning! I've found the key to keeping myself from being ravenous between meals is to make sure I have a combination of protein, carbs, healthy fat and fiber – this breakfast did the trick!
As it turns out, today is Chobani's 4th b-day! I'm glad I was able to celebrate.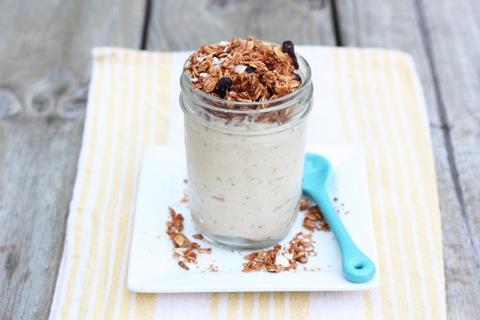 Aren't recipes with one step the best? I think so, especially when it comes to breakfast and I'm running around the house like a mad woman trying to make it to the gym, shower, eat and look presentable for work.

Enjoy the rest of your evening and let me know if you try the pumpkin pie yogurt!

//endif; ?>